Alicia de Andrés Miguel
Profesor de Investigación
ada@icmm.csic.es
Office
: 038
Phone
: 91-3349016
Research Lines
---

Graphene based materials for optoelectronics
General objectives
Design and fabrication of hybrid materials with optimal symbiosis of organic semiconductors, inorganic nanoparticles and graphene properties.
Search of new or improved features of the resulting nanostructured hybrid films,
Applications: transparent electrodes and nanostructured active layers in photovoltaic cells, electroluminescent devices, field effect transistors and sensors.
Approach
Materials design and fabrication + Fundamental study of materials + Device fabrication + Technology development
Basic studies
Resonant Raman processes in graphene oxide
Chemical and thermal reduction mechanisms in few layer thin films and bulk graphene oxides.
Stacking of graphene oxide few-layer films and defects produced by thermal and chemcial rediction mechanisms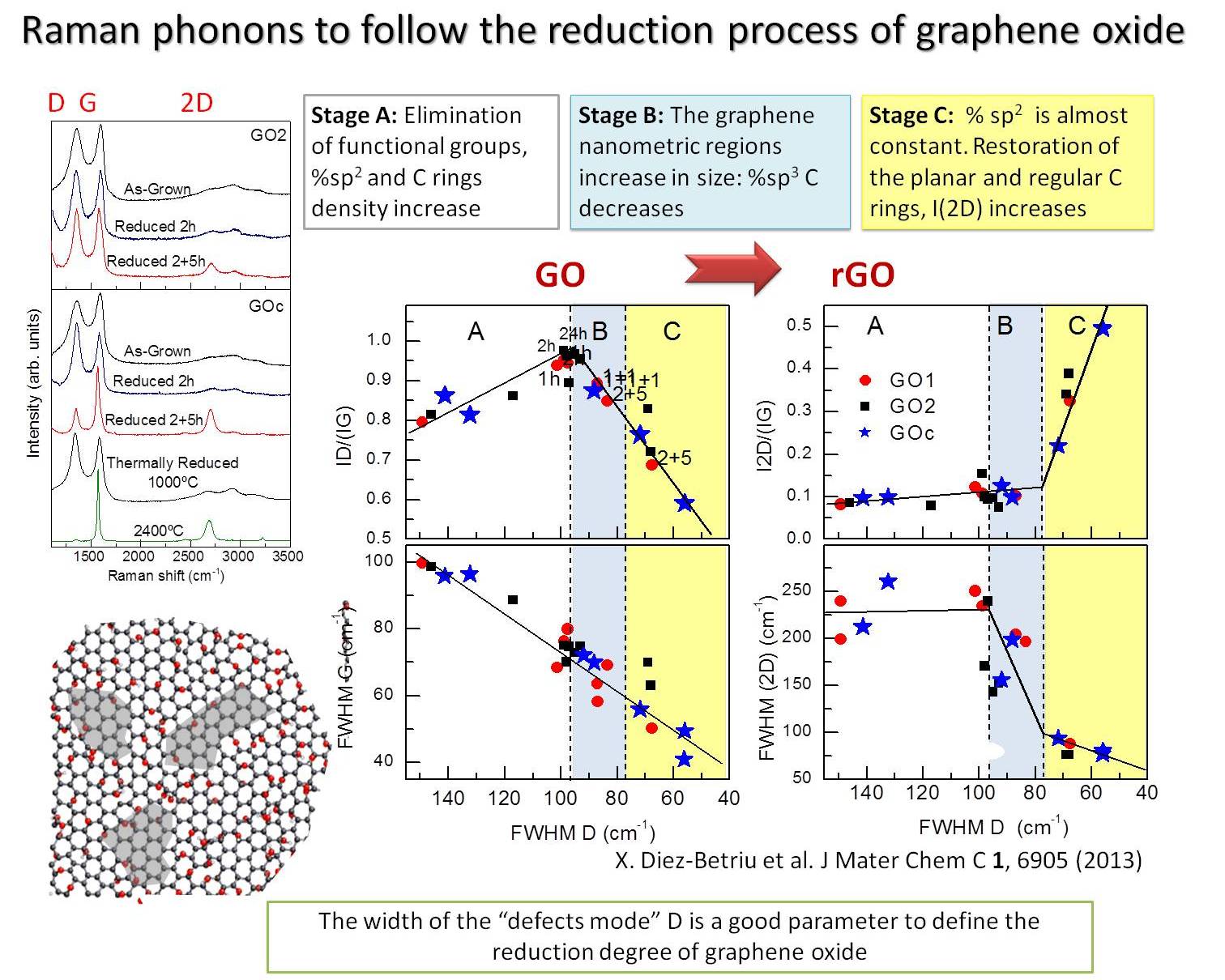 Transparent electrodes: Cheap, green, scalable to large areas, Indium free, on any substrate, in particular flexible ⇒ Graphene oxide (GO)
Optimization of chemically derived few-layer graphene films for transparent electrodes with doping control
Hybrid graphene based materials: chemically derived graphene thin films or CVD graphene with metallic, semiconductor or oxide nanoparticles.
Graphene patterning and nanostructuring - graphene quantum dots
Large scale patterning of GO and G films for integration in devices, Nano-Graphene-GQDs
Development and optimization of a novel mask-free cost-effective technique for micro/nano-patterning based on electrical micro/nano-discharges compatible with large area manufacturing.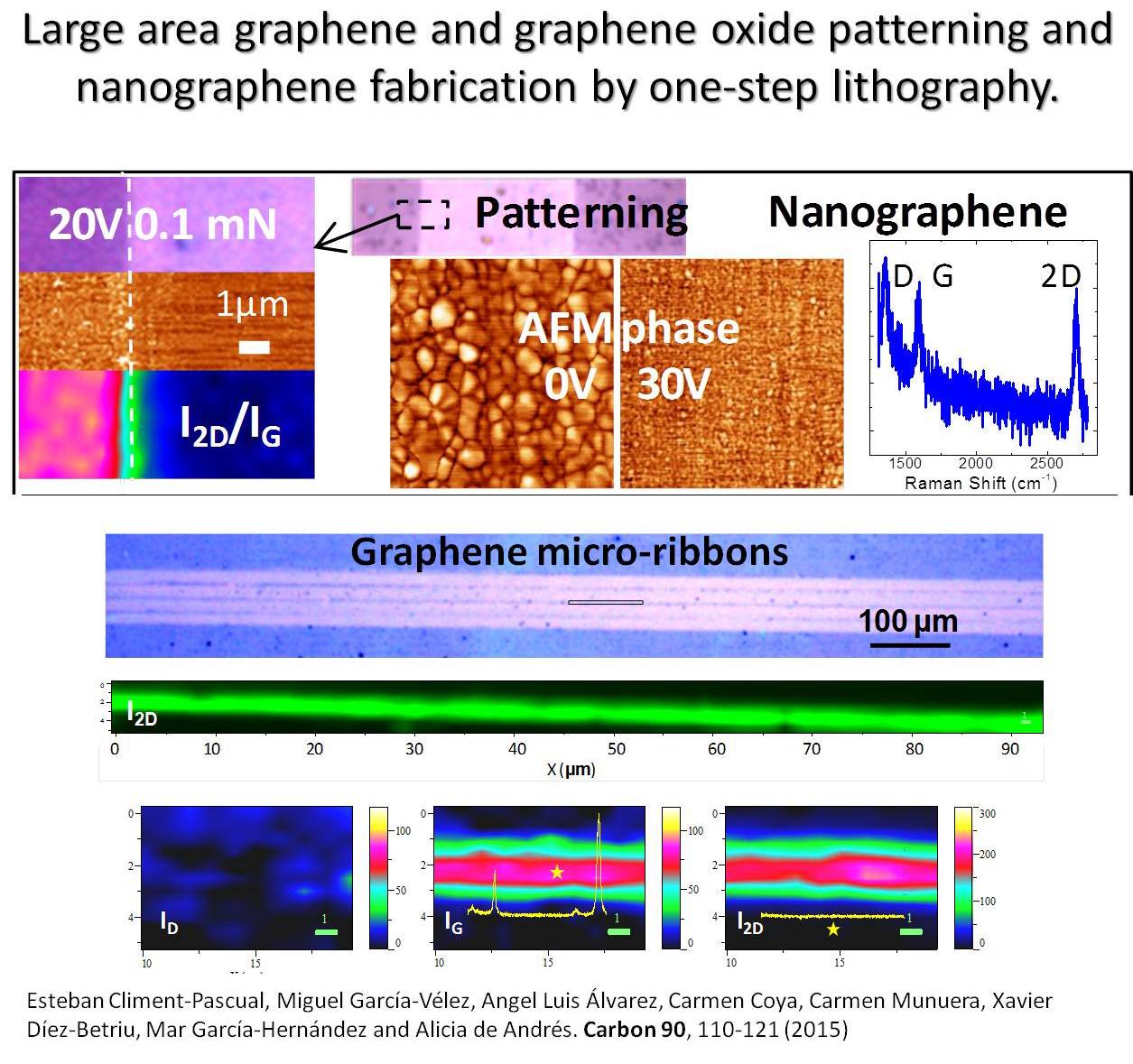 CVD graphene and nanographene on different metal thin films.
Building a home made set-up: CVD + sputtering technique
Related Projects
"MATERIALES HIBRIDOS BASADOS EN GRAFENO PARA APLICACIONES EN ENERGIA Y DETECCION OPTICA". Enero 2016- diciembre 2018, MAT2015-65356-C3-1.
"PHAMA 2.0, Materiales híbridos avanzados para aplicaciones fotónicas" Programa de I + D entre grupos de investigación de la Comunidad de Madrid. Proyecto concedido. 2015-2018.
"Materiales híbridos basados en grafeno para aplicaciones optoelectrónicas: optimización de sus propiedades y procesado de dispositivos de bajo coste" ICMM. MAT2012- 37276-C03-01
"Sistemas de almacenamiento de energía con grafeno para vehículos eléctricos" Proyecto Repsol-INSPIRE. UPM-CSIC. Abril 2013 – diciembre 2015
Graphene Flagship, Octobre 2013 - . Workpackage Materials
Selected publications
---

Organic-inorganic materials for optoelectronic applications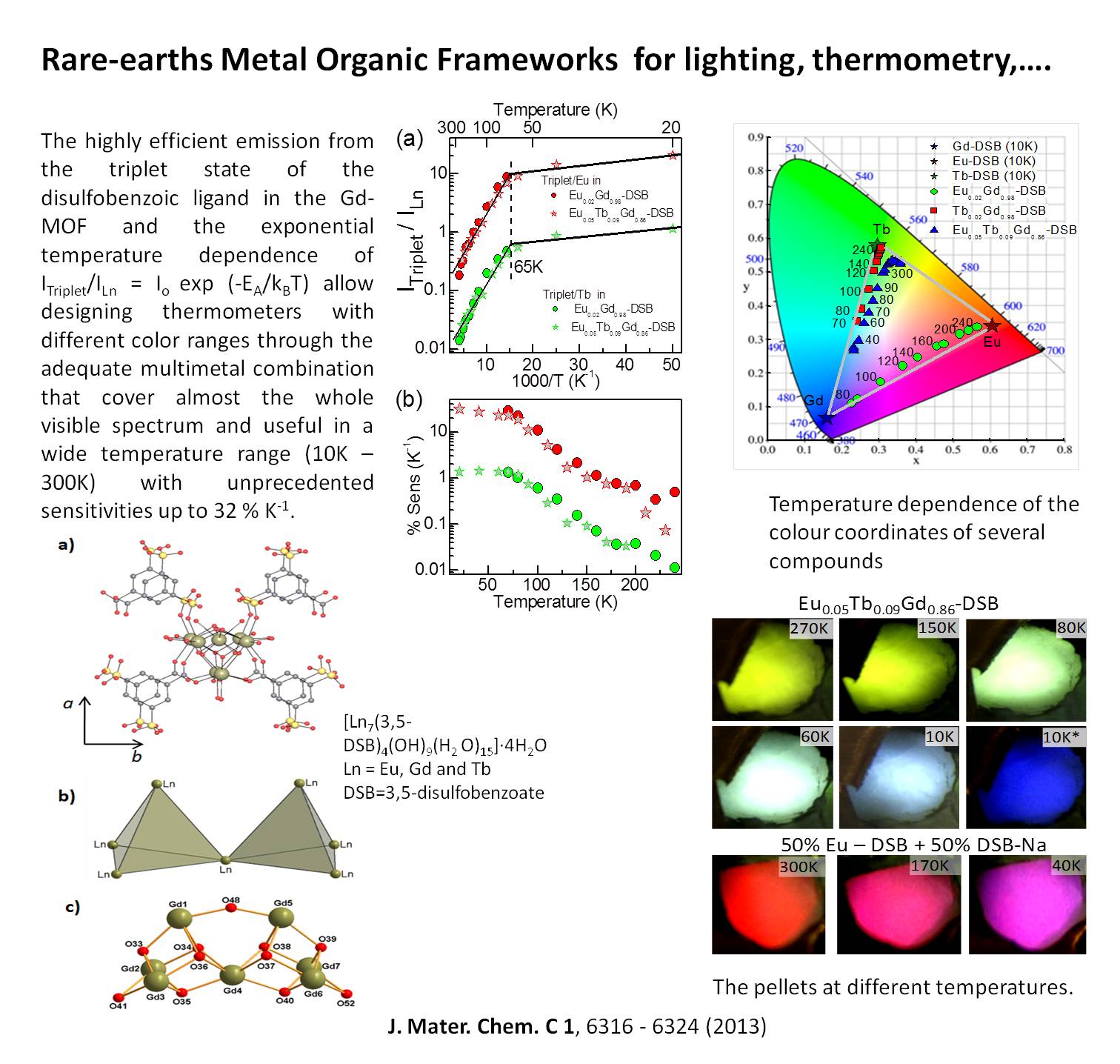 Funded projects
"Materiales híbridos avanzados para aplicaciones fotónicas" Programa de I + D entre grupos de investigación de la Comunidad de Madrid. S2009/MAT-1756.
Selected publications:
---

Magnetic semiconductor oxides, transparent conductive oxides.
---

Oxides with colossal magnetoresistance
Mecanisms of the magnetoresistance, phase coexistance and segregation, inhomogeneities, distortions and local structure of magnetic oxides. Phonons and electron-phonon interactions.
Ultra thin films and heterostructures of manganese perovskites and insulating oxides. Structure, interfases, substrate effects. Effects in the magnetic and transport properties related to the nanometric scale.
Selected publications