"Extraordinary Chiral Exchange-Bias Phenomenon: Engineering the Sign of the Bias Field in Orthogonal Bilayers by a Magnetically Switchable Response Mechanism"
Alberto Bollero, Volker Neu, Vincent Baltz, David Serantes, José Luis F. Cuñado, Javier Pedrosa, Ester M. Palmero, Marietta Seifert, Bernard Dieny, Rafael P. del Real, Manuel Vázquez, Oksana Chubykalo-Fesenko and Julio Camarero
Nanoscale, 2020
DOI: 10.1039/C9NR08852K
Isothermal tuning of magnitude and sign of the bias field has been achieved by exploiting a new phenomenon in a system consisting of two orthogonally coupled films: SmCo5 (out-of-plane anisotropy)-CoFeB (in-plane anisotropy). This has been managed by using the large dipolar magnetic field of the SmCo5 layer resulting in pinning one branch of the loop (either ascending or descending branch) at a fixed field value while the second one is modulated along the field axis by varying the orientation of an applied magnetic field. This enables the control of the sign of the bias field in a novel manner. Moreover, modulation of the bias field strength is possible by varying the thickness of a spacer between the SmCo5 and CoFeB layers. This study shows that the observed phenomena find their origin in the competition of artificially induced anisotropies on both layers, resulting in a reversible chiral bias effect that allows selecting the initial sign of the bias field by switching (upwards/downwards) the magnetization in the SmCo5 film.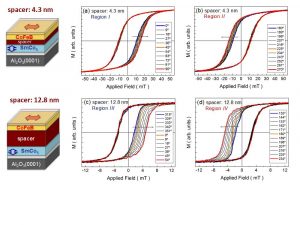 The figure shows the in-plane hysteresis loops measured by MOKE with magnetic field applied at different in-plane angles for: (a) and (b) SmCo5(30nm)/spacer(4.3nm)/CoFeB(3nm); and (c) and (d) SmCo5(30nm)/spacer(12.8nm)/CoFeB(3nm). aH = 0° corresponds to applied magnetic field parallel to the easy axis direction of the Si/SiO2/CoFeB reference sample. Arrows are visual guides to show the continuous increase in coercivity when varying the field while keeping pinned one of the loop branches.
This work, in collaboration with IMDEA Nanoscience, Madrid; IFW Dresden; SPINTEC, Univ. Grenoble Alpes/CNRS/CEA and the Univ. Autónoma de Madrid, has been supported partly by the Spanish Ministry of Economy, Industry and Competitiveness (MINECO) under project MAT2016-76824-C3-1-R and by the Regional Government of Madrid under project S2018/NMT-4321 NANOMAGCOST-CM.