Instituto de Ciencia de Materiales Madrid (ICMM), CSIC
Sor Juana Inés de la Cruz 3, 28049 Cantoblanco, Madrid, Spain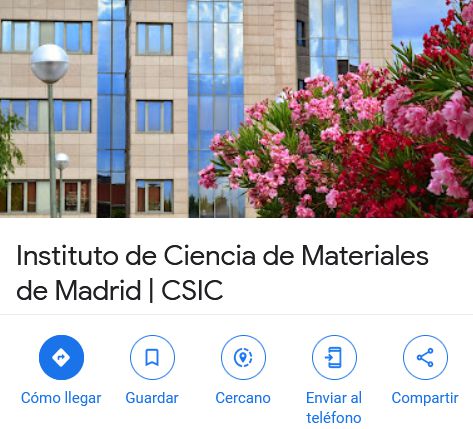 Arriving by train (Cercanías):
From either one of
Atocha
Sol
Nuevos Ministerios
Chamartín
take the train in direction

Alcobendas/San Sebastián de los Reyes
Colmenar Viejo
and get off at
Cantoblanco Universidad
from there you have to walk approximately 10-15 minutes (see map below).
Arriving by bus:
Direct
• Bus no. 714 – Plaza de Castilla – Cantoblanco.
• Bus 715 – UAM – Universidad de Comillas
• Bus 827 – Canillejas – Alcobendas-UAM-Tres Cantos [Tres Cantos-Universidad Autónoma-Alcobendas-T4 llegadas-Metro de Barajas-Metro de Canillejas.]
• Bus 827A – San Sebastián de los Reyes – Alcobendas – UAM
• Bus 828 – Universidad Autónoma-Recintos Feriales. [Universidad Autónoma-Alcobendas-T4 llegadas-Metro de Barajas-Metro de Canillejas.]
Arriving by car:
Coordinates: 40º 32′ 35.72″ N – 3º 41′ 21.51″ W
Road M-607 Madrid-Colmenar Viejo (Northwest) Exit number 15
Road M-616 Alcobendas-El Pardo direction Colmenar Viejo
(Beltway – Ring Road)M-40 (North) Exit M-607 direction to Colmenar Viejo